Description
Brush up your English and build a stronger current affairs vocabulary in order to discuss news topics in English.
THIS COURSE IS FOR YOU IF YOU WANT TO:
> expand your vocabulary and be able to talk about complicated themes; fake news, lies and crime
> work on your comprehension skills, especially understanding British English speakers
ABOUT THIS COURSE
This one is action-packed! Full of video clips, LOTS of new vocabulary and thought-provoking themes. (I've also managed to throw some comedy in to lighten the serious mood 👍😉)
We'll work our way through the first unit which is dedicated to telling lies: highlights from his lesson include a hilarious clip from 'Would I lie to You' and a lecture from one of our EDA friends, Joelle from Oxford.
We'll then move on to talking about fake and misleading news before ending the module on the topic of crime.
WHAT YOU WILL LEARN
A lot of advanced vocabulary connected with lies, fake news and crime, with a big focus on comprehension.
Main skills developed: listening & reading. Secondary skills practised: writing, speaking
WHAT IS THE FINAL ACTIVATION PROJECT?
I'll be challenging you with a series of timed 'stream of consciousness' writing tasks. You'll then have a precision writing task to do and a fluency speaking task.
Bonus materials:
Article: Beyond Fake News – 10 Types of Misleading News,
Reference guide: A-Z Crime Word List
Meet your teacher: Kerin Goodall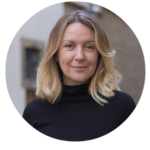 Hi I'm Kerin Goodall founder of EDA and your teacher for this course. I will provide you with personalised feedback throughout your learning experience.
Is there a certificate?
Yes! At the end of the course you will find a short progress test. To earn your certificate you must pass the test with a score of 65% or higher.
Do I receive feedback and guidance on this course?
Yes! You'll get feedback from our qualified teachers on your work throughout the course and also on your final assignment in the activation project. To receive feedback you must complete the tasks within 6 months from purchase. Work completed after 6 months will not receive feedback.
Access period
You will have lifetime access to this course.